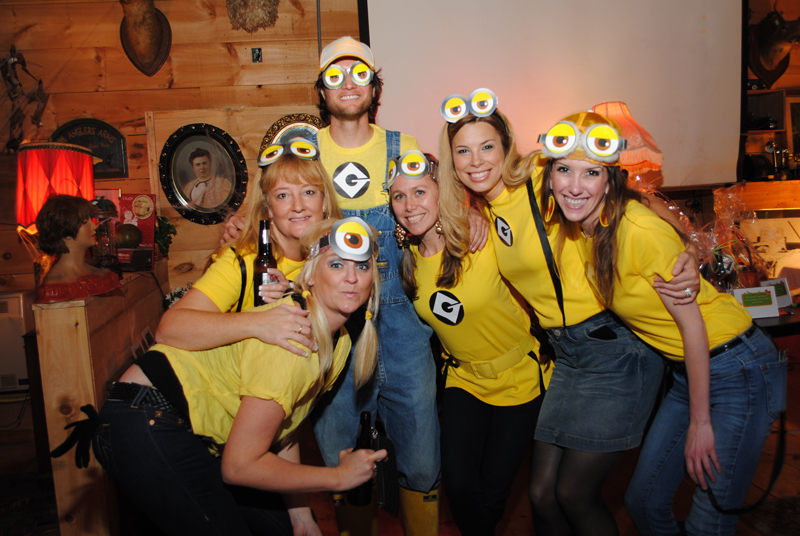 LOCAL CELEBRITIES TURN OUT TO SUPPORT SIMPLE GIFTS BOO BASH FUN-RAISER.
(photos by Amanda Russell)
While the Time and Temperature building flashed ' Boo... Bash', costumed party goers danced up a storm at the first annual Boo Bash "Fun- raiser"  for Simple Gifts at Bubba's Sulky Lounge on Saturday October 19.
In attendance were "Survivor" winner Bob Crowley, TV talk show host, Shannon Moss, and Maine's  "Jack Nicholson"  Ed Ezzard, who came as the crazed Jack Nicholson from "the Shining".
Use of the Time and Temperature Sign was donated by the Law Office of Bornstein who was the event sponsor.
"There's no better place on the planet better then Bubba's for this type of event" said Mary Irace, president of the charity. "Their Halloween decorations are jaw- dropping and the dance floor and fun atmosphere can't be matched."
About 70 people attended mostly in creative and wild costumes. Flappers and cave man/ woman costumes were particularly popular.
The event featured a silent auction and two awards for best costume a "Celebrities Choice" award won by Eddie Lopez of Bangor as Moses and a Peoples Choice , won by a group of friends who came as the Minions from the movie "Despicable Me".
Refreshments and entertainment were donated by Elsmere BBQ, Leonardo's Pizza and the Cookie Jar , and DJ Aaron Fileo.
"This was the very first fundraiser we've done and we wanted it to be as much of a good time as a true fund raiser. We only charged a $20 admission so younger people could afford to come and add some energy excitement" said Treasurer Tony Irace,"They obviously got the word as many danced from the opening bell until til they shut off the lights at 1 pm".
There are more photos on Maine Today
If you missed out, you could still consider a tax-deductible donation.